Don't Be Baffled By Baffles
Baffles are a critical component to our attic insulation process that provides multiple benefits to a difficult construction aspect.
BASIC FUNCTIONS OF BAFFLES
Baffles are chutes that, when installed properly, can provide a channel for air to flow from your exterior soffit vents up into your attic space. That airflow is intended to churn the stale air in your attic which helps to remove moisture and control the temperature of your attic. Baffles come in a variety of materials including foam, plastic, or cardboard. At Ecotelligent Homes, we use foam baffles for Michigan homes. The foam baffles hold up in Michigan's humidity, whereas cardboard baffles can absorb moisture causing them to fall and be ineffective.
In addition to offering airflow in your attic space, baffles keep attic insulation off your roof deck, which is especially important for cold Michigan winters. During the winter months, a home is more susceptible to the formation of condensation where the attic insulation contacts the roof. The home's slope or pitch of the roof is also a factor in the possibility of condensation along with the climate. Installing baffles in every cavity will help prevent the potential condensation on roof decks.
OUR STANDARD PROCESS
Michigan residential construction code requires a baffle be installed in every cavity; however, at Ecotelligent Homes we don't treat the code as the gold standard, we treat it as the bare minimum allowed. Our basic attic insulation package goes beyond the minimum code requirements and includes installing baffles in every cavity with a blocker and air sealing of the exterior top plate, see sketch below (artwork courtesy of our crafty engineer, Owner Amanda Godward).
We go beyond simplifying installing a baffle, to also installing a blocker and air sealing the exterior top plate seam, which provides our customers with the following benefits:
Promoting attic ventilation with fresh air from the exterior soffits to mitigate moisture in attic air and control attic and roof deck temperatures.
Prevent blown-in attic insulation from spilling into your exterior soffits and blocking the fresh airflow.
Improve the comfort of exterior rooms by reducing heat and air losses.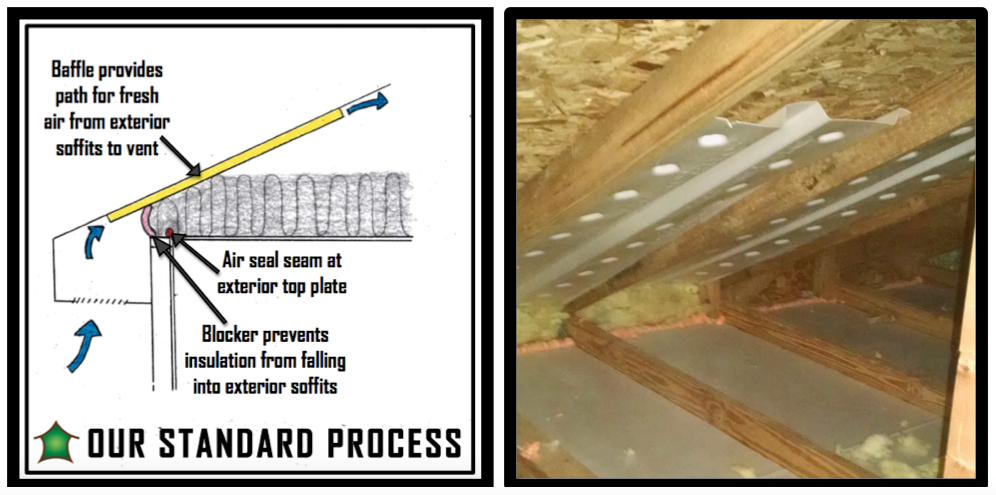 OUR PREMIUM PROCESS
We developed an industry-leading technique to provide maximum insulation performance at the very tight exterior edges of your attic because this often overlooked area is a critical energy efficiency detail. Our skilled crew installs closed cell spray foam at the exterior top plate up to the baffle, see sketch below. This premium process provides the following benefits in addition to the benefits of our standard process:
Allows your attic insulation to function at optimal levels by eliminating "wind washing" which is when the fresh air from the soffits travels through your attic insulation and degrades its performance.
Provides maximum insulation (more than double that of fiberglass or cellulose) in the very tight but critical area of your exterior wall top plates, this is especially important for homes with a low roof pitch.
Eliminates ice dams by creating a custom fit air seal over the critical areas of the exterior top plate.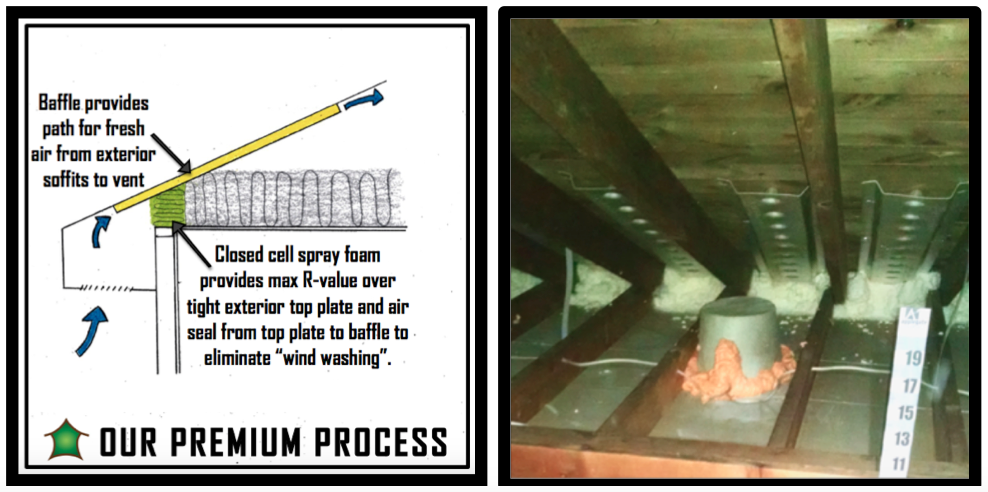 INSULATION TECHNICAL EXPERTS SERVICING METRO-DETROIT
We are the technical experts in home performance and insulation servicing southeast Michigan. Call us today to schedule your Comprehensive Home Energy Audit and learn more about our industry-leading practices and how they can improve the comfort, efficiency and durability of your home.